We're here to help you create a safe and drug-free workplace!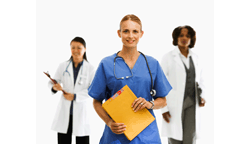 First Choice offers discreet and confidential pre-employment physicals and drug screenings, and we have a Medical Review Officer (MRO) on staff to verify all results. We offer the quickest possible turnaround times on all testing services and most lab testing services at our Little Rock Clinic without an appointment. We also offer a variety of services to help you keep your employees safe and drug-free.
Pre-employment drug screenings are a standard operating procedure for many businesses, and it's usually most cost-effective to let us test your employees. We also offer specimen collection training if you're interested in instituting your own in-house program and a variety of other services. We'll be happy to discuss your options and provide you with the training and resources you'll need to get started. Contact us today to learn more about the following services:
Policy Development-A drug-free workplace policy should be both compliant and flexible. Whether you need to create a policy from scratch or need to update your existing policy, we're here to help. We'll make sure your policy is comprehensive, easy to follow, and meets all required Federal DOT and workman's compensation insurance requirements.
Training-We offer specimen collection training for your employees who will be administering onsite collection and all other necessary drug or alcohol-related certifications. According to 49 CFR 382.603, driver supervisors must receive at least 60 minutes each of "reasonable suspicion training" on both alcohol and controlled substance use. All of our training programs are available in person and online, and we offer free unlimited online training for all clients. Our training programs are easy to complete and can be easily customized to meet your company's drug-free workplace requirements. Your supervisors will have the knowledge they need to make informed and unbiased reasonable suspicion determinations.
Substance Abuse Professional Services-Good people sometimes make bad decisions, and we're here to help your employees on their road to recovery! We offer the services of a Substance Abuse Professional (SAP) by appointment to help your employees return to safety-sensitive duties after a failed DOT drug and/or alcohol test. The SAP can recommend treatment options for your employees who need help, and we'll perform all recommended return-to-duty testing and subsequent follow-up testing.
Contact us online or at 501-661-9992 to learn more about our policy development and training services.