First Choice Can Help You Establish an In-House Drug Testing Program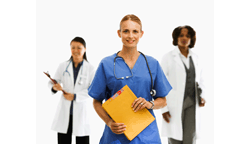 If your company conducts pre-employment or random drug testing, First Choice operates a full-service clinic conveniently located in south Little Rock. We also offer pre-employment physicals and background checks so that you can make smart hiring decisions. We offer discreet and confidential testing services and offer most of our lab testing services during business hours without an appointment. You'll get the quickest possible turnaround time on all testing results, and we have a Medical Review Officer (MRO) on staff to verify their accuracy.
We offer a lot of convenience for our customers, and we handle everything from specimen collection to testing to the delivery of the results. We can also help you implement an in-house program for your business. A lot of things can happen between the time that you send an employee to our lab and when he or she arrives, and some companies don't have a second to lose when they need to confirm that an employee is drug-free. If you're interested in creating a testing program for your business, we offer the following services:
Policy Development-A drug-free workplace policy is your company's commitment to its stakeholders to protect their investment. We'll help you develop a policy based on the best practices in the industry, and lead you through its successful implementation.
Specimen collector training-We offer urine collector training that meets the requirements for Federal DOT testing. You'll be able to test your employees onsite instantly after a workplace accident, and we manage random testing pools suitable for a smaller transportation company with fewer employees.
Reasonable suspicion training-Trucking companies, railroads, and airlines require that their supervisors complete 60 minutes of "reasonable suspicion training." Supervisors will be trained on how to spot the warning signs of alcohol and controlled substance use and when to order an employee to submit for testing.
Pre-employment drug screenings are a good way to reduce the risk of theft, excessive absenteeism, and workplace accidents at your company, and random testing is a great way to keep your employees honest. We offer all of our training programs in person as needed, and free unlimited online training for all of our clients.
Contact us online or at 501-661-9992 when you have questions about our collector and supervisor training programs.