First Choice offers on-site testing at your company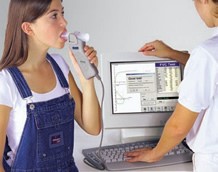 First Choice offers every conceivable lab test at our convenient south Little Rock location, and we love partnering with small businesses to help them run drug-free workplaces. We offer pre-employment drug screenings and physicals, and we can also help you administer a random testing program to keep your employees honest. We have the expertise to handle all of the testing details, and we'll make sure that your employees get in and out quickly. We also keep a Medical Review Officer (MRO) on staff to verify all testing results.
Drug and alcohol testing at our lab is the most cost-effective option for small business owners, but it does have its limitations. For starters, your employee won't be available to work while he or she is traveling to our lab and undergoing testing. If you suspect that the employee is drug or alcohol impaired, you'll need to send an additional employee to accompany the employee to the lab. Workplace safety is always the highest priority, but routine offsite testing can definitely lead to lost productivity. Sometimes it makes the most sense to institute an in-house testing program, and we can help you get started. Contact us today for more information about setting up any of the following onsite tests.
Drug and/or Alcohol Testing
Medical Exams – including DOT Physicals, HAZMAT Physicals, Fit for Duty Physicals, Hexavalent Chromium Physicals, and Abilities Physicals
Audiograms
X-Rays
Respirator Fit with Medical Clearance
Blood Draws
Onsite testing is a great way to minimize lost productivity and maintain consistent testing standards for your company. It's much easier to maintain and operate a drug-free workplace when your employees know that they can be tested at any time, and we'll make sure that your business is in compliance with all applicable industry standards. We have decades of experience partnering with trucking and transportation companies, and we can help you set up and administer onsite testing at your convenience. All of our testing services are confidential and discreet, and we offer the quickest and most accurate results. We're a phone call away any time that you have questions, and at First Choice, your satisfaction is always guaranteed!
For more information about setting up an inhouse drug screening program contact us online, or at 501-661-9992.