Arkansas Businesses Have Trusted First Choice Since 2006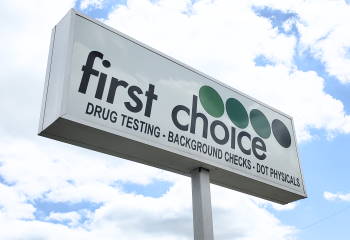 First Choice was started in 2006 by 3 registered nurses who wanted to create a comprehensive testing center that focused on providing legendary customer service. We perform drug screening collections, lab based and instant testing, and breath alcohol testing. All of our employees are trained and certified in DOT collection procedures and we have an MRO on staff to authenticate all lab results.
We perform any conceivable screening for illegal drugs, but it doesn't stop there! We also provide background checks, paternity testing and TB skin testing services. Here is a look at some of the services that we provide. Feel free to also contact us if you're looking for any lab test that isn't listed below.
Discreet and confidential screenings-We offer DOT, Non-DOT, & 1st class FAA physicals in addition to our drug and alcohol screenings. We will make sure that client is fully informed on all testing procedures, and all specimen collecting takes place in a confidential environment.
Onsite testing services-For a variety of important reasons, you might not want to send an employee to us for testing. If you believe a driver is under the influence, you certainly wouldn't want to take a chance putting him or her behind the wheel to drive to our clinic. In addition to the testing performed at our clinic, we can also perform on-site testing at your location. We also offer specimen collection kits and instant testing devices for sale.
Training and policy management-Our MRO Dr. Richard Doncer is on staff at our clinic to verify all testing results and ensure compliance with all policies and regulations. We also offer a variety of different training programs to order. If you need reasonable suspicion training for your supervisors and shop foremen or specimen collector training, we offer a variety of training programs. Many programs can now be completed online, or we can hold live training sessions onsite. Our programs are designed for success and we'll help you meet all licensure and certification requirements that your industry requires. We can also help you develop and implement a drug-free workplace policy and manage your testing program.
For more information, contact us online, or at 501-661-9992.