Cheaters Always Get Busted – Why Does Your Company Drug Test Applicants / Employees?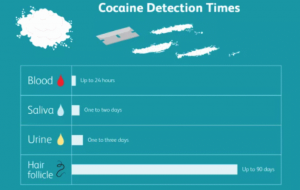 Many clients like the convenience of instant drug testing devices. When properly used, they can be a great tool to make a hiring decision quickly as negatives are reported the same day and over 90% of all drug tests are negative.
Recently, a donor came in for a pre-employment urine drug test and the employer preferred instant testing for the reasons previously mentioned. There was no cheating this time, but the donor anxiously looked over the shoulder of the collector to read the instant device. The instant device indicated a non-negative (aka presumptive positive) for cocaine. Our collectors are trained to package all non-negative samples up to be sent to the lab for confirmation as should always be done when using instant testing devices. Instants are great "rule-out" devices as studies have indicated that negative results are as accurate as a lab; however, false positives do occur hence the reason any non-negatives should ALWAYS be sent to the lab for confirmation testing.
The donor, seeing the cocaine indicated on the instant test, remarked that "she had wondered if it was still in her system". The next day this same donor came in and paid for a "private" instant test and asked that it be sent to the employer who she had tested for yesterday. This test was negative, which is not surprising as cocaine has a short detection window (1-3 days). We did send this "private" test to the employer, per her instructions, but not before telling the employer the details of the previous day's test and informed the employer that specimen from the previous day had undergone further testing and had yet to return from the lab. The first specimen's results came back a couple of days later and was positive for cocaine.
I do not know if the employer accepted the results of the first test or the private test; but I do know some employers test because they must. These employers have a customer, supplier, or both that demand they drug test their employees. They do not pay attention to the statistics that clearly show that employers with a robust drug free workplace program enjoy: BETTER OVERALL JOB PERFROMANCE, IMPROVED EMPLOYEE MORALE, REDUCED MEDICAL & INSURANCE COST, REDUCED ABSENTEISM, REDUCED LIABILITY. These advantages equate to long term profitability.
Let us help you design and implement a robust drug -free workplace program. It won't happen overnight, but the rewards listed above make the effort worth the payoff. If you test because you must and not because you believe in the benefits of a drug-free workplace, why not embrace those benefits? After all, you're already invested in the testing piece and the rest is mostly just attitude. Why does your company drug test applicant/employees?