First Choice offers on-site testing services for your convenience!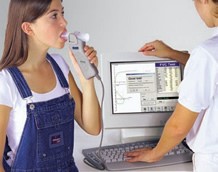 At First Choice we offer every conceivable lab test available in our convenient location in South Little Rock. Our staff are courteous and professional and committed to providing legendary service to all of our clients. But if it's not convenient for you to send your employees to us, we can set up an on-site testing program for you!
Some industries offer very clear guidelines about how their testing operations are handled and we will walk you through all the steps required to set up your own on-site testing to ensure full compliance. If an on-site testing operation isn't specifically mandated we'll also be happy to discuss your other options with you so you can keep a productive and drug-free workplace.
Clinical drug testing is very comprehensive and the most common way that employers handle pre-employment and random drug testing. The applicant or employee shows up to the clinic at a designated time (or at a time of his or her convenience) and the results are delivered to the employer as soon as they become available. It is usually the most cost-effective and convenient way to test employees and new hires, but it has its limitations. The employee has to leave the site to travel to the clinic. It means lost productivity at the workplace, and a lot of things can happen on that trip.
By having an onsite drug testing program in place, you can adhere to the strictest standards. You can schedule random screenings to deter drug use and test as many employees as you want at once with a minimum amount of downtime. It's a lot easier to maintain and operate a drug-free workplace when your employees know that they can be tested at any time.
We can help you set up all of the following onsite tests and procedures:
Drug and/or Alcohol Testing
Medical Exams – including DOT Physicals, HAZMAT Physicals, Fit for Duty Physicals, Hexavalent Chromium Physicals, and Abilities Physicals
Audiograms
X-Rays
Respirator Fit with Medical Clearance
Blood Draws
For more information about setting up an inhouse drug screening program contact us online, or at 501-661-9992.