First choice offers Drug Testing & Physicals onsite!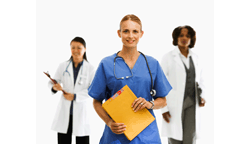 In today's changing workplace, it's more important than ever to make sure that you make good hiring decisions, and ensure the safety of your employees and your customers. That's why pre-employment drug screenings and physicals are so important. You want to make sure that your new members are drug free, and that you know of any injuries or ailments that could adversely affect their ability to do their duties safely.
First Choice offers the full range of standard drug and alcohol testing services, as well as several categories of physicals that are required for different professions. We offer all testing services at our Little Rock testing facility, and can perform all screening procedures onsite as well. Contact us at any time that you have any questions about the following physicals that we offer at First Choice:
DOT physical exams-We offer DOT physical exams for all DOT Administrations, and our standard procedure is to issue a 2 year card if at all possible. Our staff are familiar with all of the requirements for a DOT physical, and will make sure that you understand all of the results when they are delivered to you.
Fit-for-Duty or NON-DOT Physicals-Workplace safety is always important, and workforce compensation claims are costly financially and in terms of lost work time. A fit for duty exam will determine if your applicant has the ability to perform his/her duties, and reduce your risk of exposure in the event of a worker's compensation claim.
FAA Flight Physicals-If you need to find an FAA Flight Physical approved doctor, Dr. Jim Bryan is your first and last call. He's familiar with all of the ins and outs of FAA testing requirements, and performs his work professionally and discreetly for every client.
In addition to physicals, we offer virtually every other conceivable pre-employment testing procedure. Contact us for respirator fit testing, medical clearances, audiograms, or blood draws. If you have any questions, or if you would like to schedule an appointment for pre-employment drug screening or physicals, contact us online, or at 501-661-9992.