DOT, Non-DOT, FAA, and Fit-For-Duty Physicals by First Choice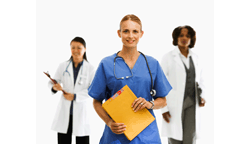 Your employees are your company's most valuable asset, and everything else is just stuff. A great physical plant and a great product aren't worth anything if you don't have a staff to handle your company's daily operations. There's a lot riding on your team, and you owe it to yourself to make sure that you're always getting the job done and that you're getting the best out of them. You need to ensure that your employees are not only drug free, but in good physical health. Workplace injuries are very costly, and you can't take any chances on people who do not meet the physical requirements for the job; plus you need to know if you're inheriting any former injuries or limitations this could be critical information if a claim arises.
Our team at First Choice offers all standard drug and alcohol testing services, and we also offer several categories of physicals tailored toward different professions. All testing is handled discreetly and professionally, and you will have testing results in no time. Contact us any time that you have questions about the following physical exams:
DOT physical exams-First Choice offers DOT physical exams for all DOT Administrations, and we work hard to issue a 2 year card if at all possible. We follow all DOT guidelines, and we'll never order or require any additional testing that is not absolutely necessary.
Fit-for-Duty or NON-DOT Physicals-Documenting prior injuries is the best way to reduce your company's exposure to liability in the event of a future workers comp claim. A fit for duty exam is a very cost-effective way to determine if your applicant has the ability to perform his/her duties.
FAA Flight Physicals-Dr. Jim Bryan is one of the only 1st class FAA Flight Physical approved doctors in the area, and has chosen First Choice Drug Testing as his home to complete all of his flight physicals. Pilots enjoy his efficiency and professionalism, and his reputation is second to none.
In addition to physicals, we offer respirator fit, pulmonary function test, medical clearances, audiograms, blood draws and more. For more information, or to schedule an appointment, contact us online, or at 501-661-9992.